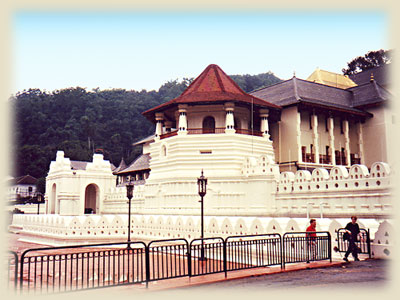 Routes to Mahiyangana:
From Kandy, two beautiful routes are leading to Mahiyangana. The northern route, the A 26, climbs behind Teldeniya up to the highest point at Hunasgiriya. It is a marvelous route, through the Knuckles Range wirh waterfalls and is the regular Intercity bus route to Mahiyangana and Ampara as well. Departures at the respective bus station. After Hunasgiriya, the road falls down in serpentines via the famous 17 bends Road. With clear weather, you have a perfect view over the eastern landscapes to Mahiyangana.
Distance: 75 km to the Nest. Time: 2:45 hours

The alternative route is 25 km longer, but as fast as the previous one. It runs south of the A 26 along the Victoria dam, the largest Sri Lankan dam for irrigation and power generation, and is as attractive as the other. This road is declared in the map as a secondary road, but is very well developed and there is less traffic. If you drive on your own, don't forget to bring your equipment like jack, good spare wheel, tools, a good map, because it can be very lonely here.

Kandy: The biggest city of the hill country is located 500 m above sea level and well known for its pleasant climate. It is the cultural heart of Sri Lanka and one of the big religious and mental centers. The history of the city leads back to the 13 th century to King Wickramabahu's time. Kandy became the capital in the 14 th century under the last singhalese kingdom and expired in the year 1815, after escaping the portuguese and dutch, as the last king Wickrema Rajasinghe was taken into prison by the British colonists.
Dalada Maligawa: The Temple Of Tooth contains a tooth of Buddha as a relic and is located opposite the Kandy Lake, which was built 1807 by King Rajasinghe. It is one of the most sacred places for the Buddhists all over the world, and attracts daily many visitors. The octagone was the place from where the king addressed the public on important occasions.
The Esala Perahera, a monumental parade, with many elephants and dancer, is another major attraction and is celebrated annually at the full moon night Esala (july/august).

Further information: www.kandycity.org